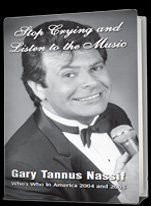 Stop Crying and Listen to the Music is the true story of Gary Tannus Nassif, once a flawed and dysfunctional youngster who did not believe in himself. He dealt with heartbreak, fear, a traumatic stuttering problem, and lack of self-confidence since he was a young boy. Yet, he tried to understand his father's abusive treatment and struggled to improve himself.
Gary experiences glorious moments—gaining self-confidence, self-control, and finding a reason to go on living—that eventually helped him deal with every obstacle that came his way. Driven with each failure, he fought to bring himself to the top. His surprising accomplishments in various fields proved that success is there for all of us to attain and enjoy.
Stop Crying and Listen to the Music is a depiction of the human spirit, a belief in God, and the will to rise above difficulties. Though much of the story deals with the author's personal experiences growing up under his father's strict rules and conditions, readers will marvel at the author's stunning achievements: his break into Hollywood as a singer/entertainer for the same stars he revered in the lonely movie theaters as a child; excellence in art; teaching students; and creating the renowned bronze sculpture, "The Jeremiah Children," for St. Jude Children's Research Hospital and its founder, Danny Thomas.
Book Review by Judy Goldman
Stop Crying and Listen to the Music by Gary Nassif
Gary takes you along on his journey from Iowa to Hollywood, with stops in Las Vegas and Lebanon. His unbelievably detailed and picturesque descriptions of the people, the events, and the emotions put you in his shoes and capture your heart. This book is filled with inspiration, useful life lessons, and challenges that we can all relate to. It gives us a peek into the mysterious world of show business and introduces us to movie stars who become real people right before our eyes. Discover the stories that drive you to tears…of laughter. I haven't laughed that hard in 20 years! Experience the terror of being in the middle of a major earthquake. This is a book that you can't put down. Gary plays with words like a violinist plays with strings. He is not only a remarkably talented author, artist, and singer, but is an impersonation of "Love." The world is a better place for having Gary Nassif in it.
I thought I could hear Gary sing in the pages of his book. But not until I heard his CD did I truly appreciate the magnitude of his talent. Brought to us with such deep feeling, his stories and songs carry us back into a time and place we can only dream about. His voice is amazing. Now I know why he received so many accolades and support from entertainers, movie stars, and fans alike. What a pleasure it is to lose oneself in the magic that happens when Gary sings the songs of yesteryear!
---
REVIEWS
for reviews and feedback, please email the author directly at
garytnassif@gmail.com
"An autobiography? A diary? A testimony? A revelation? A healing? Yes, Gary Tannus Nassif's "Stop Crying and Listen To The Music" is all of the above. To just call it an autobiography does the writer a grave disservice for, simply stated, an autobiography provides an overview of how a man got to where he is from where he was, and in this case, "autobiography" is not a big enough word.. And as a diary is a daily glimpse into a man's life; Gary permits you to peer at him under a microscope..Yes. A testimony. A confession. A revelation. A healing. Now we get closer to a more accurate description of the literary journey the reader will embark upon. If one truly believes that the eyes are a window to the soul, than that shall be my most precise description, for Gary's masterpiece is a long, penetrating look into his eyes, deep into his soul, arriving at the final destination, his HEART..You travel with him, page by page, as his life is revealed and played out in dramatic fashion; tragedy, comedy. You are introduced to the players along the way in such intimate and personal thoroughness, you feel as though you are in their presence, shaking their hand, giving them a hug goodbye with an expectation of an invite back…You will love as Gary loves; yes, even hate as he hates, as you ride the roller coaster that is his life. You will laugh with him, cry with him. You will cry because although his life's journey is amazingly interesting as he crosses paths with characters worthy of terrific storybook fiction experiencing immense highs, he also carries with him a perpetual weight and overwhelming burden that seems impossible to relinquish, that submerges him to horrible lows and menacing depression. As a reader, you want to step into the book and shake him, scold him, hug him, reassure him. LOVE him. But, you come to realize, along with the author, that only HE can do that for himself…As his life adventures whisk him around the country and around the world, he continues to outwit his demons, staying one step, ahead in pursuit of a DREAM. He seems to stay just strong enough to keep scratching the surface of stardom; sipping from the chalice of recognition and success. Then just when you, the reader, look ahead to the pages dwindling to a precious few, Gary brilliantly unveils an amazing literary crescendo that flows seamlessly like the beautiful music and art that he himself, creates…You smile for him. You applaud him. And finally, you revel in the hope and unwavering faith, the VICTORY, that his life's journey has gratefully and deservedly harvested. You will close the book, breathe a sigh, shed a tear. After shedding that tear, you will invariably want to listen to the music all over again….."
- Sir Glenn Williams
---
Get a copy of this inspiring authobiography NOW!
A wonderful journey came to an end for me last night. Have you ever read a book that you hated to finish, only because the experience was so memorable? My friend Gary Tannus Nassif,s "Stop Crying and Listen to the Music" was such an adventure for me. I will not spoil it for all of you by sharing details of this revealing and passionate work. Bravo Mr. Nassif!!

- Glenn Williams
February 19 at 6:26pm
ON THE SUBJECT OF MY BOOK…
…AND WHY EVERYONE SHOULD READ IT !!
LITERARY AGENTS!
"Stop Crying and Listen to the Music", is a
Depiction of the Human Heart. It Can Hurt,
Mis-understand, Learn, Understand,
Perceive And Even Find Reasons To
Forgive the Hidden Innocence in The
Oppressor.
My book is my discovery of my Father and all his worth as a man; a Father without the benefit of a formal education. I searched for reasonings and found his good intentions were shrouded with ignorance. He had no understanding of how to raise me. He only knew tactics that his father taught him. Also without an education. I am the 'Good Son'.
Mom said over and over, after she read my manuscript, "Your Father Would Be So Proud of You; Any Father Would"! If I didn't backtrack and understand my Father's motives and went on hating what he did to me, I would be a loser.
In my book, I taught the reader to look for understanding and forgive. Forgiveness sets you free and it's the Godly thing to do. Too many people are too lazy and focused on self, (with a 'Poor Me Attitude') to invest the time to understand and find the righteousness in a person. I did and Dad would love me for it. And I got well in the process!! In a way, dad also became free in my plight for freedom!!

Thank You For Listening To My Heart"
Gary Nassif'
---
Get a copy of this inspiring autobiography
NOW!
Stop Crying and Listen to the Music
ORDER YOUR COPY OF GARY'S NEW BOOK BY CALLING XLIBRIS 1 800 795-4274.....
YOU'LL NEVER PUT HIS BOOK DOWN.
ISBN13 (TP) 978-1-4134-8060-3
ISBN13 (HB) 978-1-4134-8061-0