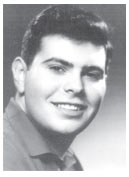 Gary Tannus Nassif was born in Cedar Rapids, Iowa, to American-Lebanese parents, Elias J. and Adele H. Ferris Nassif. He studied at Muscatine Junior College, Drake University, the Chicago Art Institute, and at the University of Iowa in Iowa City where he did post graduate work in special education.
He managed his father's business with his mother after his father's death, taught art and special education in schools in Cedar Rapids, Iowa, for seven years. Later he moved to Los Angeles and worked in scenic art at NBC and CBS for Dean Martin, Carol Burnett, and many other major shows.
In Hollywood and Las Vegas, Gary developed his singing voice, confidence, and career. Eventually he was discovered by Al Viola, guitarist for Frank Sinatra for thirty years. He was featured with Queen of the Piano of Las Vegas—Mafalda—at the MGM Grand (two years off and on) Gary headlined a show for 5,000 Shriners and families at the famed Shrine Auditorium in Los Angeles.
Gary became a sculptor for St. Jude Children's Research Hospital and its founder, Danny Thomas. He created the renowned bronze, "The Jeremiah Children," as a symbol of hope for the children.
Gary fought and won a life-long battle with stuttering, fear, and low self-esteem. As a result of writing Stop Crying and Listen to the Music, a memoir, Gary discovered that he had unlimited potential all along and the ability to exchange bad for good. Five miracles are documented in this book. In the end, Gary learned the true and innocent motive of his father's mistreatment and realized that his dad loved him after all. He only wanted to make his son tough and perfect. This story becomes an understanding, forgiving tribute to his old country American father.